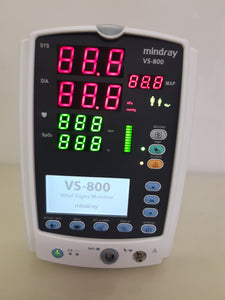 This refurbished Mindray VS-800 Vital Signs Monitor is a patient vital signs monitor which provides non-invasive blood pressure monitoring for the adult, pediatric and neonatal patient.
The Mindray VS-800 is a compact, easy-to-use vital signs monitor designed to satisfy your basic monitoring requirements. Suitable for adult, pediatric and neonatal patients, Mindray VS-800 is well-adapted for any department where quick, reliable physiological measurements are required.

Features and Benefits includes:

Suitable for adult, pediatric, and neonatal patients.
Clinical-proved SpO2 Technology.
SmarTempTM thermometer.
Adjustable audible and visual alarms
Removable and rechargeable battery, up to 10-hour working time.
Barcode scanner for quickly admitting the patients.
This machine comes with the cuff and SpO2 cable.