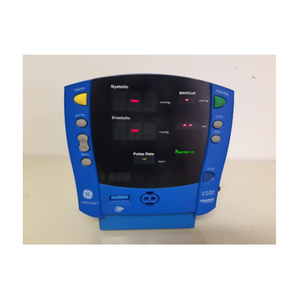 This is a refurbished GE Dinamap V100 Patient Monitor.
Our refurbished monitor comes with a BP cuff and adult SpO2 cable.
The CARESCAPE V100 monitor can go with you from one patient to the next, enabling you to capture vital signs on all your patients using a single, mobile vital signs monitor. With speed, accuracy and connectivity, the CARESCAPE V100 monitor helps you manage Clinical Information Logistics by collecting the right information at the point of care, and presenting it wherever it is needed. So you can make fast, quality care decisions informed by relevant, current clinical intelligence.
 The durable CARESCAPE V100 vital signs monitor is designed for sub-acute clinical settings where monitor mobility is important. The CARESCAPE V100 monitor battery has a long run time that can extend to plus or minus 8 hours before requiring recharge. This extended battery life allows the flexibility to move the monitor from one patient room to the next for an entire shift.