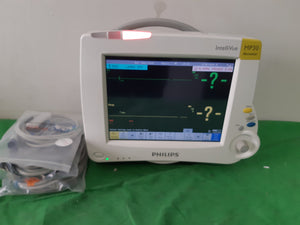 Refurbished Philips IntelliVue MP30 Neonatal Patient Monitor.
The Philips IntelliVue MP30 provides a powerful monitoring capability and essential measurements in a compact package to match the pace and unique needs of intermediate care, ambulatory surgery, post-operative care, special procedures, lower acuity environments, and patient transfer.
Featuring highly flexible screen configurations designed to suit patient acuity, department protocols, or specific procedure requirements. One of the advantages of this monitor is that it has a touch screen for quick and easy interface.
Our refurbished monitor comes with NPB cuff, 3 lead ECG cable and Spo2 cable.